TECALEMIT AEROSPACE DESIGNS AND MANUFACTURES:
A range of braided hoses, with smooth-core convoluted core, with or without fitting for low, medium and high pressure in single or double skin for aeronautical and aerospace applications: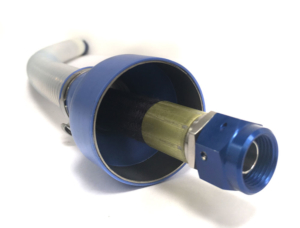 HOSES WITH METALLIC CORE
Stainless steel or Inconel corrugated core with any type of metallic or textile braid, high pressure with stainless or inconel fittings.
 HOSES WITH  PTFE PIPES
With conductive smooth core for medium, high and very high pressure (up to 5000 psi-35 Mpa), braided metal or textile, with fittings in stainless steel, titanium, aluminium or Inconel.
HOSES WITH CONVOLUTED PTFE
Low pressure (1000 psi-7 Mpa) with metallic braids or textile with stainless steel or aluminium fittings.
HYBRIDE PIPES
Combining flexibility and performance and allowing costly fittings to be saved.
OUR HOSES AND HYBRID PIPES:
TECALEMIT AEROSPACE's products:
TECALEMIT AEROSPACE
TECALEMIT AEROSPACE design and produce hoses, pipes and hybrid pipes for all types of circuits for aeronautical industry. TECALEMIT AEROSPACE offers prototyping and development service, in build-to-print or in build-to-specification.
HEADQUARTER
9 route du Dôme
Z.I. du Parc des Boss
69630 Chaponost
FRANCE
T : +33 (0)4 37 20 19 19